Wining & Dining With Yvonne Chiong Mougin, Jetsetter & Export Manager For Opus One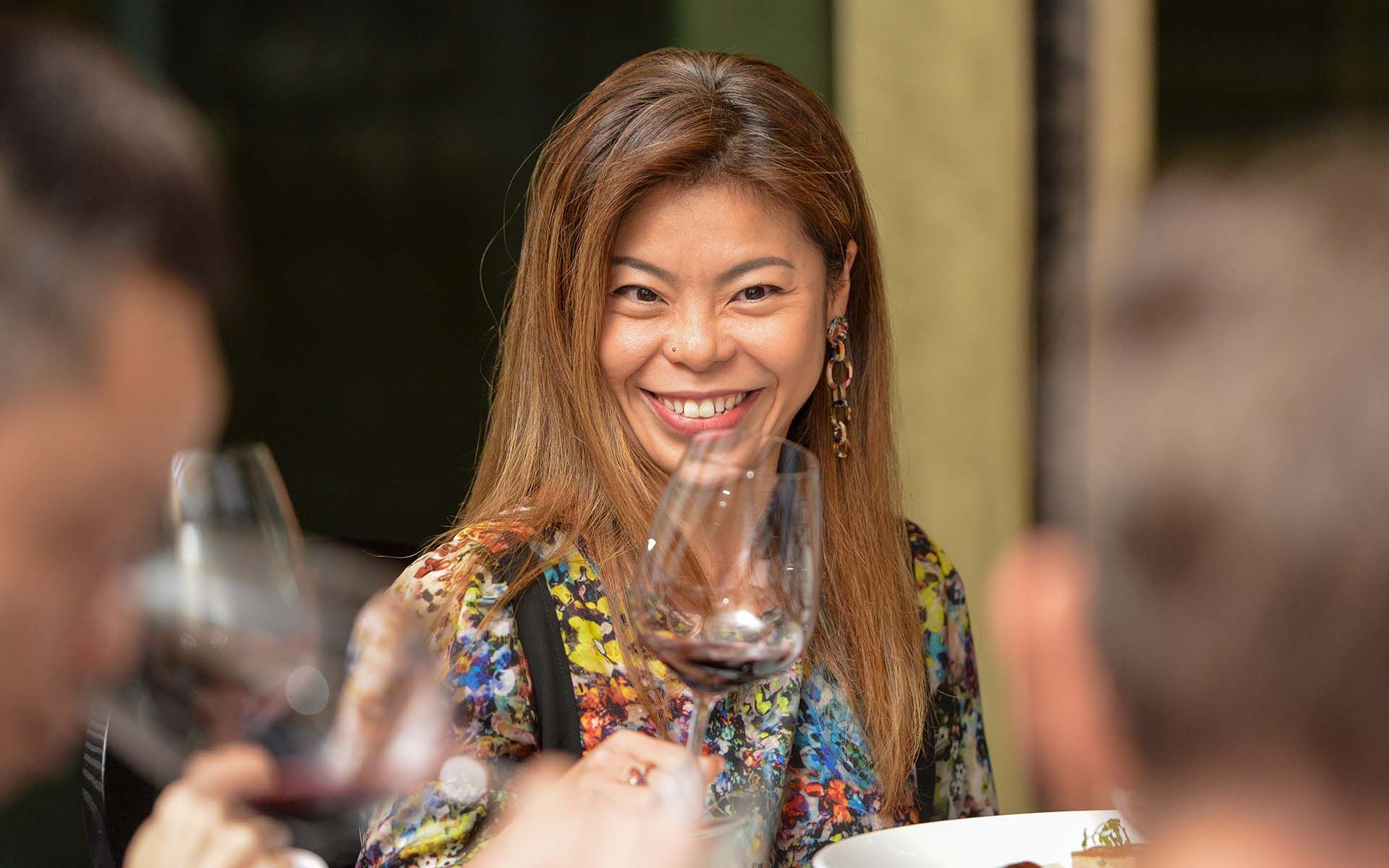 vonne Chiong Mougin, Opus One export manager

By Samantha Lim / November 08, 2019
Opus One's multilingual export manager for Hong Kong, Macau, Taiwan and Southeast Asia describes the past two decades in hospitality and wine as a living dream
When two powerhouse wineries concur to create wines together, quantity becomes secondary to uncompromising quality. Baron Philippe de Rothschild of Bordeaux's Château Mouton Rothschild and Robert Mondavi of California's Napa Valley agreed that only one wine would be released to the world annually.
Thanks to the generosity of Bordeaux Liquid Gold, T.Dining Malaysia was among the fortunate few to taste this year's vintage before its official release. Opus One 2016 was specifically flown in from the winery and served at Yun House, Four Seasons Kuala Lumpur, to complement Chef Jimmy Wong's Cantonese-style cooking.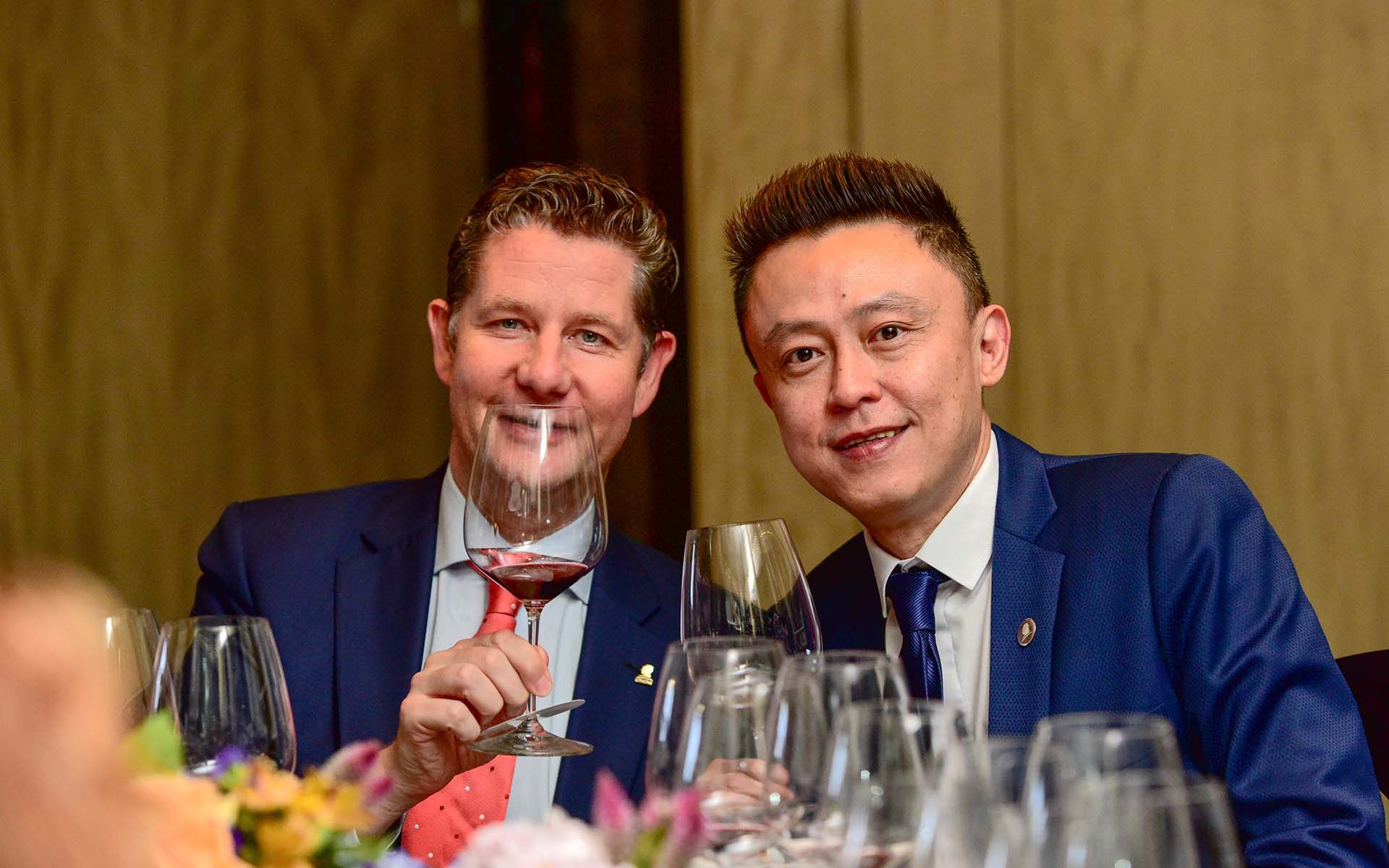 Tom Roelens, general manager of the Four Seasons Hotel Kuala Lumpur and Julian Poh, CEO of Bordeaux Liquid Gold

I have a little gift for you. It's a lapel pin of our logo. As you can see, the two heads represent our two very important founders, Robert Mondavi and Baron Philippe de Rothschild. Some say two heads are better than one!
That's very sweet of you. Your decade-long anniversary with Opus One is just around the bend. How will you celebrate your 'tin' anniversary with the company?
I didn't think I'd be with Opus One for so long, as I'd always been with hotels before this. I love that I'm constantly challenged to try new things and to explore new markets. Here I am today, but in three weeks' time I'll be in Cambodia to host dinners in Siem Reap and Phnom Penh. Last Chinese New Year saw me in South Africa and I spent my summer in Tuscany before heading to Alba where I visited a very special winery that dips their grapes in the sea. In ancient times, people dipped their grapes in the sea to get rid of the wax.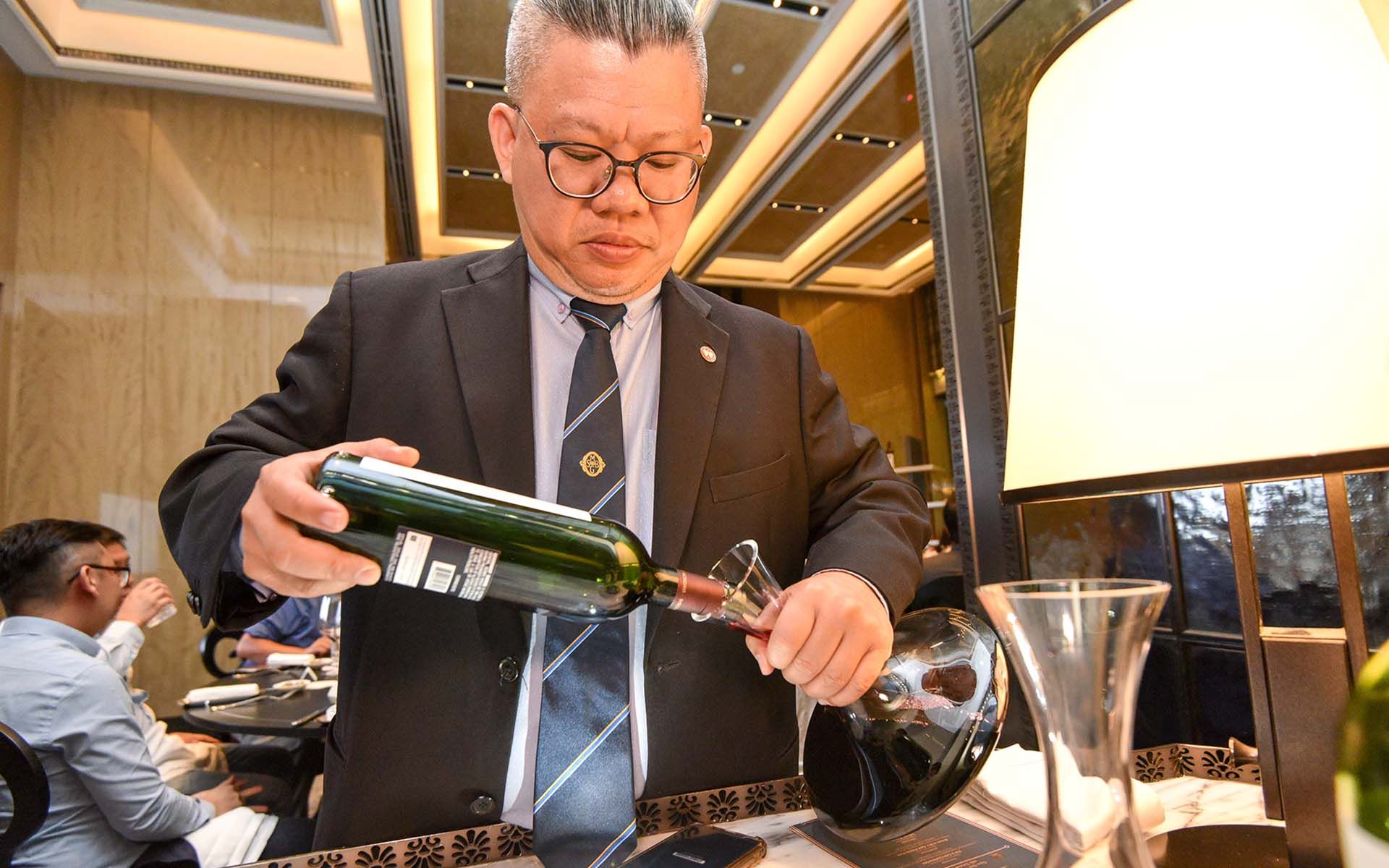 Chris Low, chancellor of the Jurade de Saint-Emilion in Kuala Lumpur
I'm in awe of you assuming the chief sommelier position at Jean-Georges in Shanghai from 2003 to 2007.
I was very lucky because even staff meal was, well, cuisine by Jean-Georges.
What did they serve for staff meal, if you don't mind divulging?
Anything you liked off the à la carte menu, except for certain cheeses, as these are expensive in China and we only had them during rare occasions.
Your passion for wine is evidently matched by your love of fine food. Do you cook?
Yes, I do. I cook all sorts!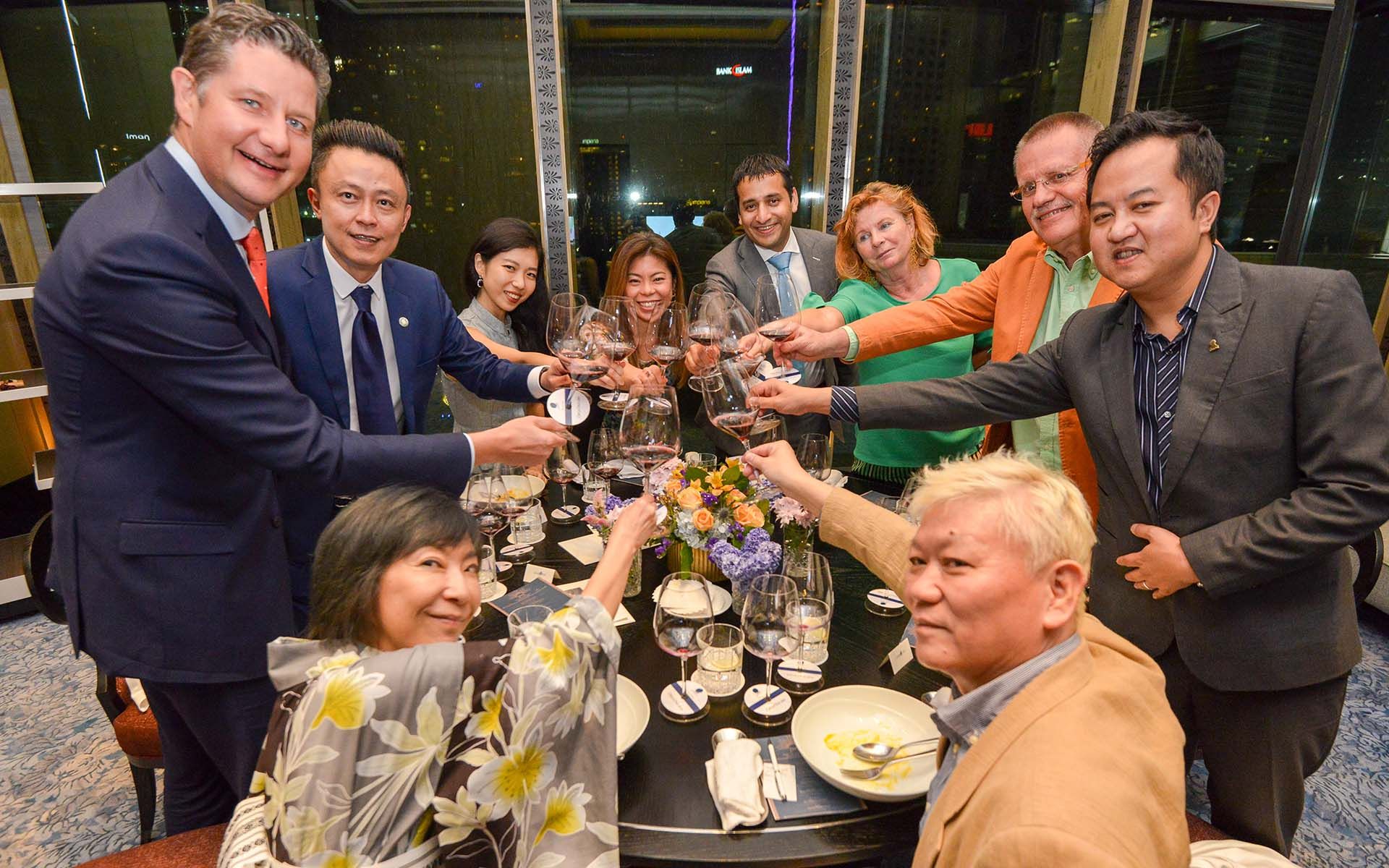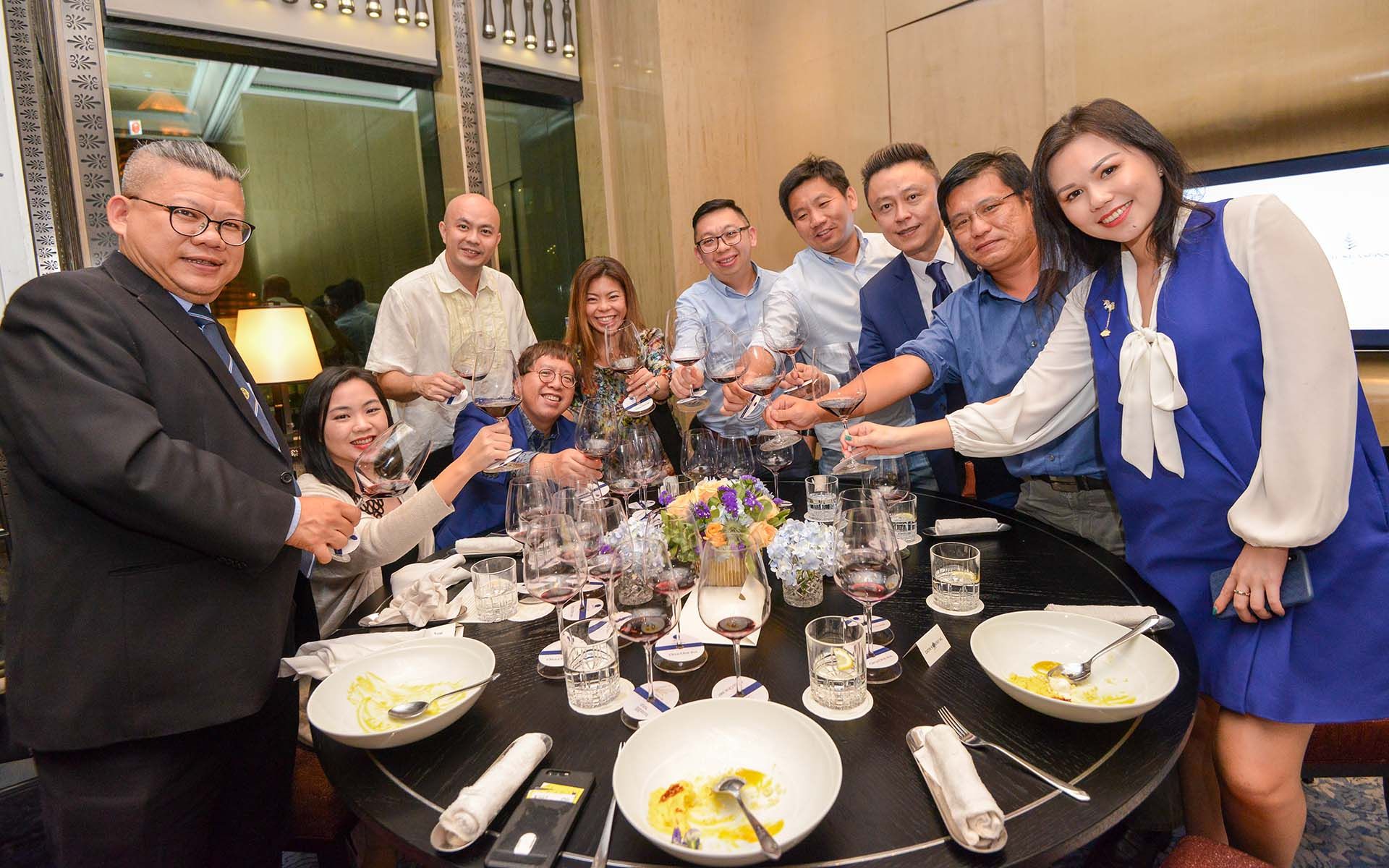 Being equally eloquent in English and Mandarin gives you an edge in the Asian wine market. But when it comes to wine descriptors, can things get lost in translation?
Because I've always spoken English, the first descriptors that come to mind are always in English. Using French can be a bit more delicate, as the French break things down into more singular flavours and aromas. The English wine dictionary is a bit more sensitive.
How about when you're in Shanghai?
I deliver in Mandarin. Some say that Shanghainese is very rough, but it doesn't have to be. When I apply Shanghainese, people describe my speech as girlish or feminine. I had to learn the language when I moved to Shanghai in 2003 for the sake of educating others. Because I'd picked up wine lingo in English, conveying everything in Mandarin wasn't easy at all—it hadn't yet become part of daily life. But once you apply connectors, Mandarin descriptive notes can be very poetic. In English, one would say 'silky tannins.' In Mandarin, you'd have to say 'silky smooth tannins.'
So you have to embellish your vocabulary when translating—it can't be word for word.
That's right.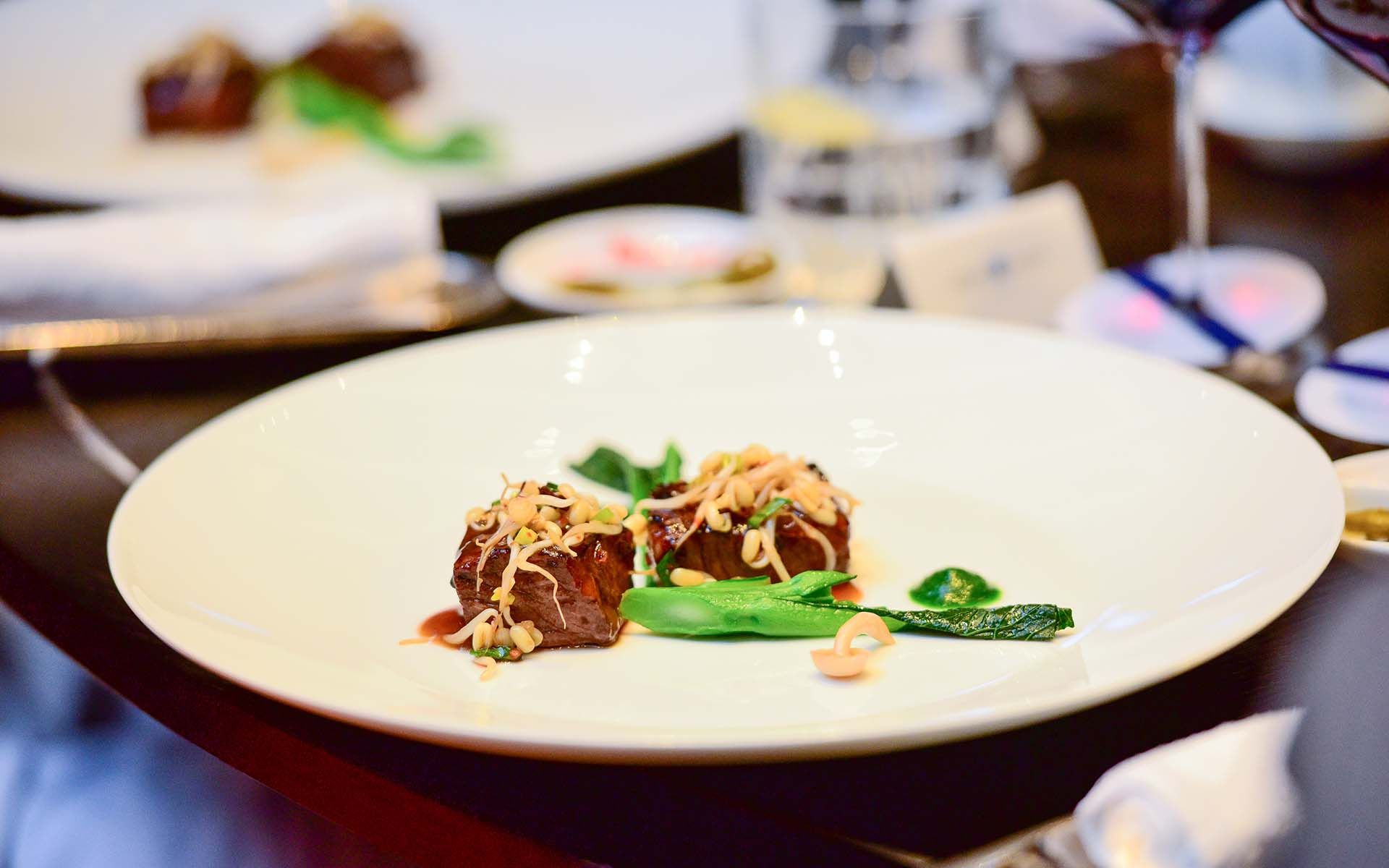 Stir-fried Wagyu beef with X.O purée, Chinese broccoli and rice crackers
Do you have your own wine cellar?
I do. I have several in different countries. I even play around with our loyal customers' cellars when I'm invited over to theirs for lunch. I'll put stickers on their bottles to tell them if they should be keeping their wines or if they should be drinking them.
I could certainly use your expertise. Some of my family's wines have all but turned to vinegar.
The thing about buying wines is that you sometimes forget you have them lying around, especially when newer bottles come your way. Managing a cellar is not as easy as it seems, and as far as collections go, you must have real passion... or bottles simply end up lying around. I see it happen all the time. The mind set is, "I'll just put this aside, as you're not supposed to drink this wine type for the next so and so years.
"Not every Barolo should be kept for 12 years, not every Barbaresco should be kept for five to eight years. There's no textbook formula for these things."
Every winery is different, every style of winemaking is different. There are natural wines or a biodynamic wines that you can keep for 15 years—you just have to know which ones.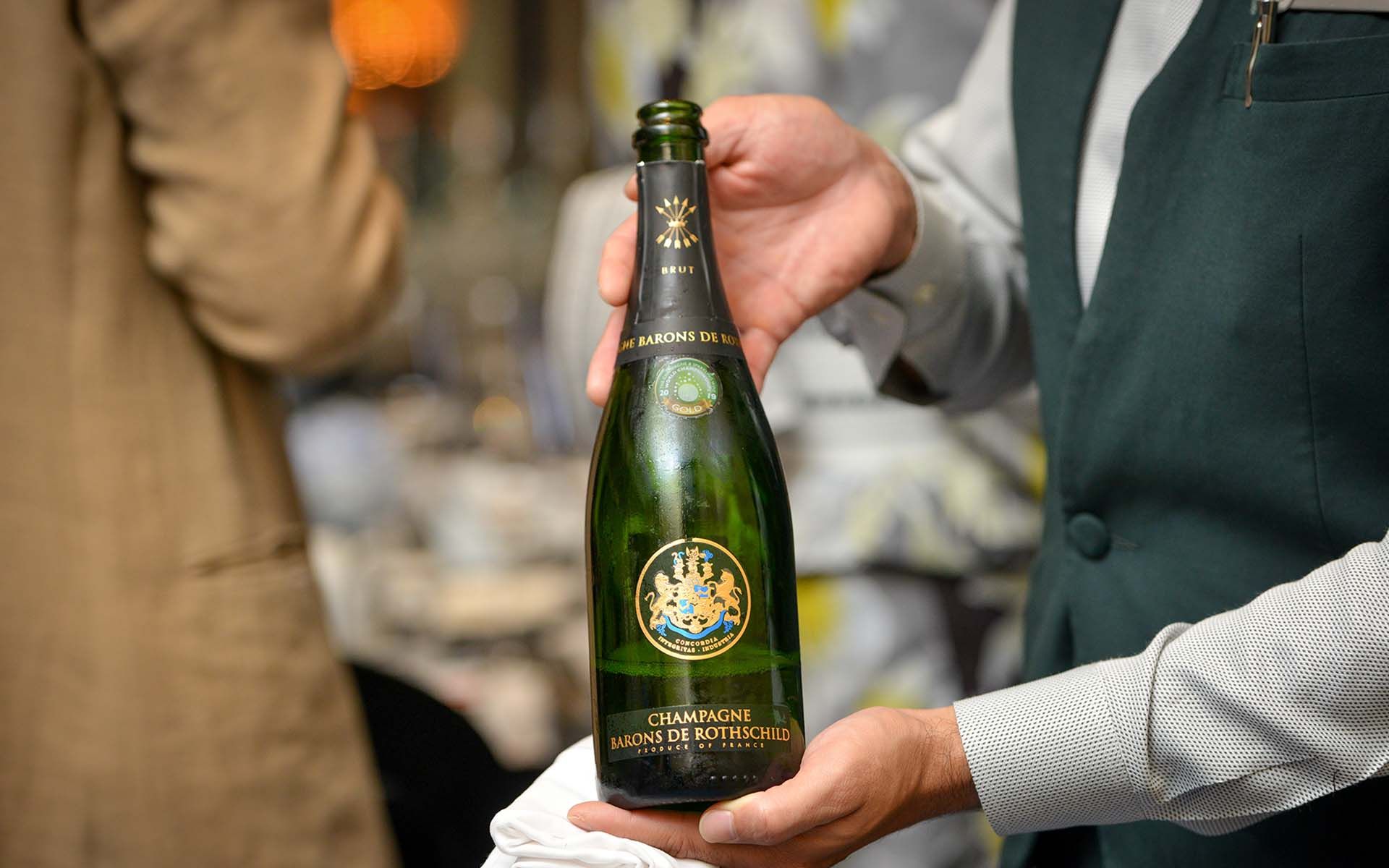 Champagne Baron de Rothschild

Do you fear for the future of wine? And by that I'm referring to climate change.
Yes, the world is changing. In Germany the wine with the highest sugar concentration is TBA or Trockenbeerenauslese—'trocken' means 'dry,' 'beeren' means 'berry' and 'auslese' means 'late harvest.' Because things are warming up, they no longer have this level of wine, as the grapes don't freeze but rot. So they don't make ice wine anymore and any vintage ice wine is auctioned off, because they're so rare.
You may have seen how the UK is making sparkling wines that are doing very well. It's because of climate change. There will be a shift.
Picture Malaysian Merlots!
Who knows? Thailand is making wines, Bali is making wines, and China most certainly is.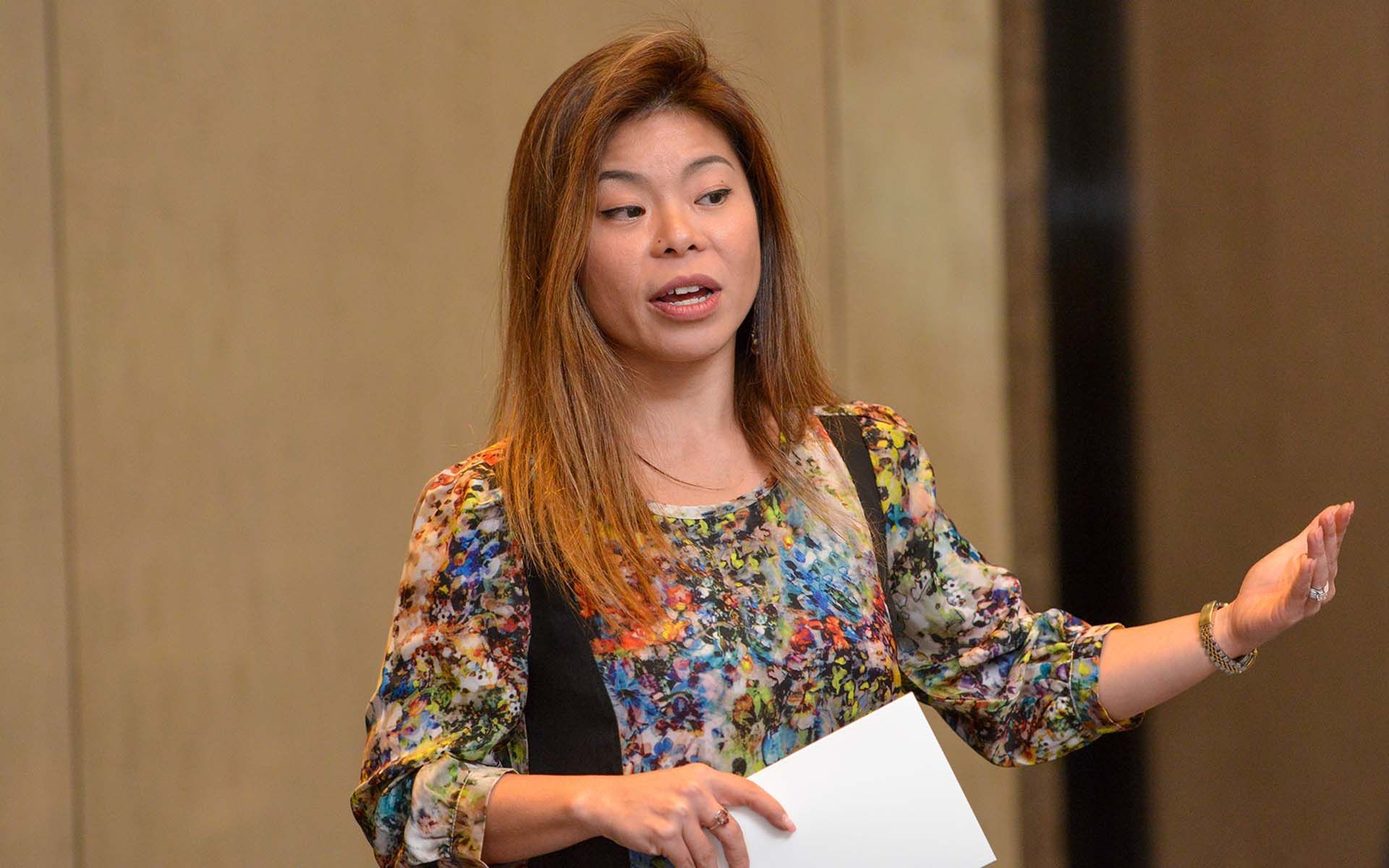 Yvonne Chiong Mougin, Opus One export manager

About Opus One 2016
Opus One 2016 was officially released at the winery on October 1st, and the physical bottles are slated to arrive in Malaysia at the end of November or the start of December.
Remarkably well-rounded with immediate aromas of fresh fruit and baking spices, the 2016 gives off a bouquet of black olive and herbs such as sage and rosemary. Juicy on the palate and velvety in terms of mouthfeel, the wine comprised of 77% Cabernet Sauvignon, 8% Petit Verdot, 8% Merlot, 5% Cabernet Franc and 2% Malbec has a long finish with lingering cacao and coffee notes.
Visit DiineOut.com to discover more epic tastings held in collaboration with cult winemakers.