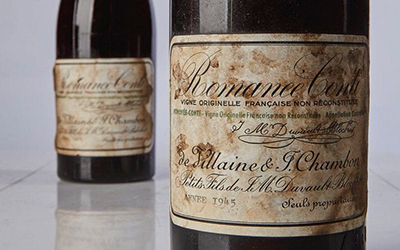 Two bottles of 1945 Burgundy set records at auction in New York CREDIT: SOTHEBY'S
Abottle of 1945 Romanee-Conti wine fetched a record-smashing $558,000 (£424,000) at an auction held at Sotheby's in New York Saturday, which saw two bottles break the previous record.
The final price, including taxes and commissions, was 17 times the auction house's $32,000 upper estimate for the fine French wine.
Romanee-Conti is widely considered the best Burgundy wine, and is one of the world's most prestigious producers.
Its domaine, in the Cote de Nuits region, spans less than four acres (two hectares), producing between 5,000 and 6,000 bottles per year.
The bottle is one of 600 produced in 1945, just before the vines were pulled up for replanting.
A few minutes after Saturday's sale, another 1945 Romanee-Conti was sold for $496,000.
The previous record for a standard wine bottle was held by an 1869 Chateau Lafite Rothschild, sold in Hong Kong in 2010 for $233,000.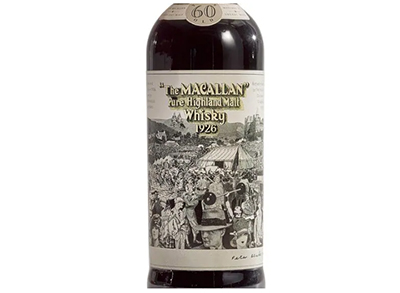 This bottle of 1926 Macallan, with a label illustrated by Peter Blake sold for $843,200 - a new US record CREDIT: SOTHEBY'S
But of all sizes, a $310,700 3-litre 1945 Mouton-Rothschild scooped the previous record at a 2007 auction in New York.
Saturday's lots came from the personal collection of Robert Drouhin, who from 1957 to 2003 directed wine producer Maison Joseph Drouhin, one of Burgundy's most prominent.
Elsewhere at the auction, a bottle of 60-year-old 1926 Scotch whisky fetched $843,200 - failing to break a $1.2 million record set in October.
Founded in 1924, The Macallan distillery, of Carigellachie, northern Scotland, produced just 40 such bottles in 1986. Unlike wine, whisky stops maturing once bottled.
Twelve of them, including that sold Saturday, had labels illustrated by Peter Blake, who designed the Beatles "Sgt. Pepper's Lonely Hearts Club Band" album cover.
Three of the 1926 whiskies - one with Blake's illustrations, and two others featuring artwork by Italian Valerio Adami - fetched more than $1 million each at auction over the past six months.