The 2016 harvest in Bordeaux "is clearly an excellent vintage" and on a par in terms of quality with 2005 and 2009, according to Philippe Dhalluin, the managing director of Mouton Rothschild.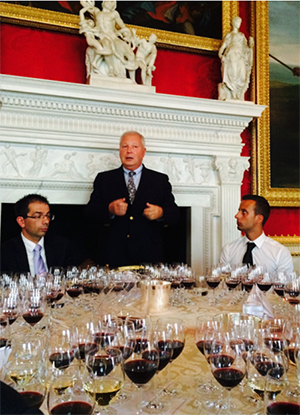 Although he said that he would "wait and see what the critics will say," Dhalluin, who has overseen winemaking at the first growth property since late 2003, told the drinks business last week that "everyone was very happy with the vintage."
Continuing, he said that "it is clearly a great vintage" across the Mouton Rothschild estates – which includes Pauillac-properties Clerc Milon and d'Armailhac as well as, of course, the famous first growth.
He said that he could confidently state this because "I have the analytics", noting that sugar levels were good, producing alcohol levels in the wine of "slightly over 13%, which is pretty high for our estates", while the vintage has produced wines "with a lot of tannins, they are, as you say in English, creamy tannins."
Speaking further about the tannins, he said that 2016 had produced the highest level of polyphenols ever recorded at Mouton Rothschild, before noting that the property has been monitoring polyphenol levels for over 30 years.
Meanwhile, he described the wines as "very juicy, with a lot of flesh; they are rich without being over-alcoholic," commenting too that the wines had a "very good freshness and balance".
Looking back over the course of 2016, he said the year was "bi-polar", beginning with record-breaking levels of rainfall, before the weather changed dramatically from the end of June, when extremely dry conditions set in, creating near-drought conditions in the region throughout July and August.
Due to the large amounts of rainfall in the first part of the year there was enough ground water to support the vines throughout the arid summer, meaning that the yields in 2016 are in fact slightly higher than the previous year, when the vineyards produced as little as 35 hectolitres per hectare on average.
Having described Bordeaux 2016 as "between 2005 and 2009 in style", he added that the latest harvest was "clearly" on a par in terms of quality with both these critically-acclaimed vintages.
Drawing a comparison with the advent of two consecutive excellent but stylistically different vintages in Bordeaux with 2009 and 2010, he said that 2016 "had more density than 2015, even if 2015 is exceptional too, so maybe people will prefer the 2016: it will be like 2009 and 2010."
Due to the extremely wet first half of the year, Dhalluin admitted that the Bordelais had initially had very low expectations for the vintage.
"This vintage is a surprise for everyone," he summed up.